Competitor analysis will be something most comms professionals will do as a matter of course, but prioritizing it as a key task can make for more powerful results. Gathering important market intelligence on the business you compete with is key to shaping your PR strategy.
PR and comms teams need to be alert as to:
exactly what their competitors are achieving with their comms activities,
what coverage they are getting,
how authoritative they are perceived to be and,
what sentiment there is around the coverage of their brand or business.
Awareness of these factors allows communications professionals to differentiate their own PR campaigns and messages from their competitors, avoid making similar mistakes to their rivals, and to respond directly or indirectly to competitor messaging.
Thinking more strategically, comms teams that really want to show their value within an organization are also able to use that market analysis and competitor research to update and inform the wider business to help shape future plans, growth, and longevity.
Competitor research for communications professionals
Strong competitor research for PR and comms teams will often turn up information and facts about competitor plans, any new direction they are heading in and messages they're focused on.
This is valuable not just to PR and comms teams in terms of emulating and differentiating from competitor wins and informing on how to avoid their mistakes, but also of great potential value to the business as a whole. By gathering this key market intelligence, PR teams can go further than just informing their communications strategy.
One of the common tenets of journalism is to 'never assume' and the same can be applied to PR teams in terms of what they turn up from competitor and market analysis. It may be easy to assume that the wider business already has a take on what competitors are doing and achieving but, by taking the initiative and making it a part of the PR function to regularly report on findings of this nature, many comms teams may find they demonstrate a new added value to the organization.
As our guide 'Why proactivity is the key to managing a reputation' notes, PR and Comms teams can help shape the business in the long term by considering how to align with leadership and the questions they pose.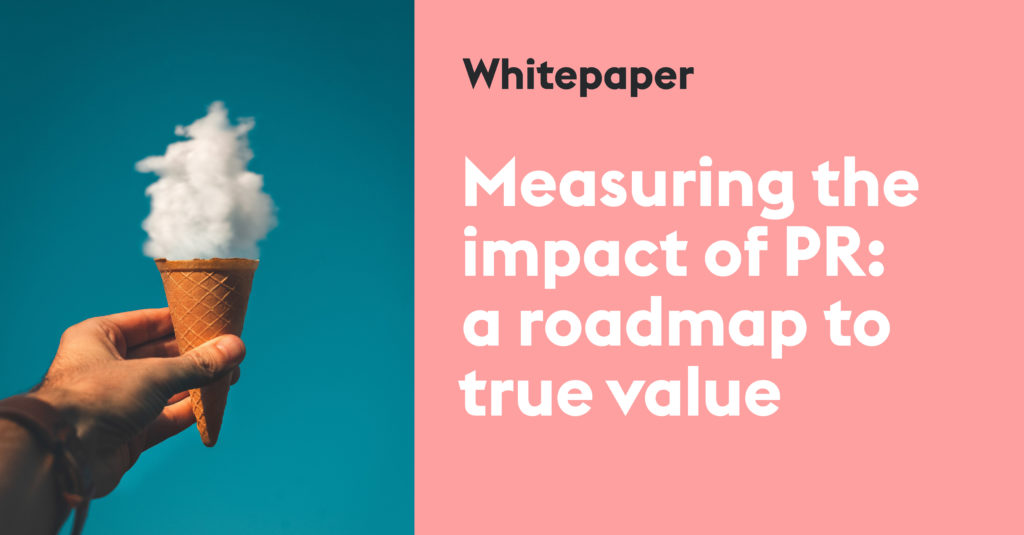 Competitor research tools compared – the pros and cons of available options
Excellent media monitoring tools are vital for a comprehensive view of how competitors are capturing attention online and in the media.
Tools need to alert teams to coverage and discussion around competitors and sift out what's irrelevant. It's vital to see if the coverage is positive, negative, or neutral, and to map and track the conversations and reactions around it such as on social media – requiring a tool with sentiment analysis.
Being aware of who is winning PR awards helps you understand what you're up against, but a close analysis of the real outcomes and achievements of successful campaigns will provide more valuable information. A great PR campaign isn't necessarily just one that is innovative and attention-grabbing – it's one that leads to real tangible results for the organization represented. Looking beyond headlines and seeing the prominent topics and sentiments of award-winning campaigns can help you understand why a competitor is so successful in a certain area.
All of this monitoring and analysis can be time-consuming and overwhelming to achieve even for your own brand's key terms, let alone to do it well for competitor terms too. Traditional methods of Google and Twitter alerts and cutting services may prove too slow. In some cases there may be additional, prohibitive charges attached to monitoring competitor terms to consider, such as expanding into a different region or media type, like podcasts or broadcast media. An AI-powered tool can allow you to adapt your searches easily and with no extra cost, giving you an assessment of your competitors quickly.
Effective competitor analysis with a media monitoring tool means:
Identifying your competition and how they're perceived in target media
Analyzing the right information, going beyond volume, and assessing the sentiment and prominence of certain topics with competitor organizations
Analyzing share of voice in specific geographic locations where it is important to understand
The ability to monitor specific spokespeople and ambassadors connected to your competitor and how their messages are being received.
Artificial Intelligence (AI) is revolutionizing PR by enabling quicker and simpler searching that provides more relevant results. 'Apple' the brand can be quickly distinguished from 'apple' the fruit without the need for time-consuming construction of Boolean search strings to disregard irrelevant results. Without the right information at hand, PR teams will find it difficult to fully analyze their competitor's communications activity.
PR teams can equip themselves to gain insight into how competitors have pushed ahead in terms of public perception of a specific area in a specific location. For example, if a brand is seen as progressive for environmentally friendly technologies in a specific place above other competitors, for example, that's valuable intelligence.
Competitor analysis tools
Pros
Cons
Google Alerts
Can be set up without the need for additional software
May return huge amounts of irrelevant results.

Shows no sentiment differentiation. The volume of coverage is only one aspect of the analysis of how well competitor PR work is doing.

Boolean searches
Can filter out some irrelevant results
Creating complex Boolean search strings to make results more relevant can be extremely time-consuming and adjustments to those are slow and difficult.

Difficult to gain actionable insights from this data.

Time-consuming to read through individual stories and relevant results.

Twitter alerts
Relatively easy to set up and no need for specific software
Time-consuming to read and sift out relevant results.

Each result needs to be individually considered by a team member to understand sentiment and nuance.

Outsourced cuttings service
Can relieve pressure from the team on the basic task of finding and reporting on coverage to allow more space for more strategic and complex tasks
Dependent on reporting arrangements, information may not be available quickly enough to take action in a highly responsive way.

Sentiment may not be fully explored, analyzed, or expressed.

There may be additional charges to report on competitor coverage.

Artificial Intelligence (AI)
Takes all the effort out of searching for competitor terms because entities (search terms) can be established quickly and automatically reported upon.

AI has the built-in ability to disregard irrelevant results allowing it to include 'Apple' the brand and disregard apple the fruit, for example.

Sentiment analysis can be built in and reported upon to allow a real understanding of whether competitor coverage is positive, negative, or neutral.

Search terms (entities) can be quickly and easily changed or added to.

Requires a specific software system.

Some AI providers will charge additional fees for additional search terms/entities which means searching for competitor information could inflate the cost. Signal AI allows clients to set up as many entities as desired for no additional cost.

What is market intelligence? And how does it help competitor analysis?
Market intelligence is information relevant to all aspects of the industry that a business or organization is operating within or wishes to move into.
This includes industry and relevant global trends, competitor information, client analysis (of existing, former and future customers), and internal information and communications.
Competitor analysis is one vital strand of market intelligence.
Making the most out of media monitoring means having an overview and constantly evolving insight into all of those things.
How to use competitor analysis in practice
PR and Comms teams can use market research and competitor analysis in an almost infinitely broad and varied number of scenarios.
With the right tools, you could sweep 20,000 stories assessing the announcements from FTSE 250 companies on a particular topic, for example. With AI, in a matter of seconds, you can see the most impactful stories and decide how you should differentiate your communications and what insights ought to be reported back to the C-suite.
Accenture FinTech Innovation Lab, a global accelerator program for financial technology startups that needs to keep track of the progress of the achievements of businesses it has supported, has embraced the benefits of using AI to achieve this. It's done so after more traditional methods fell short of providing the information and insight required. The same approach could be used to keep up with news about multiple competitors.
In a different sphere, venture capitalist firm White Star Capital keeps track of patents applied for by competitors to their portfolio brand.
In times of economic downturn, PR teams are perhaps more obliged than ever to demonstrate how they can provide strategic value in this way. Establishing different entities or keyword searches for different departments can allow comms teams to provide crucial market intelligence to support those departments. PR and comms teams may gain early warnings of potential supplier issues, for example, or a competitor shifting away from a specific area that their own business could potentially fill.
PR competitor analysis – the questions to ask
All types of competitors should be considered by PR and comms teams that are seeking to generate worthy market analysis.
That includes:
Direct competitors – those companies that offer the same product or service in the same place and will be actively pursuing the same clients and customers. Such as two different tech firms selling software in the same country.
Indirect competitors – those who offer a slightly different product or service but satisfy the same customer need. For example, a tech firm offering a different type of software to your own firm in a similar price bracket.
Tertiary competitors – those who sell a different product or service to your own but one that is related in some way and marketed to the same audience. For our tech firm, perhaps this might be a large corporation that moves into the market and may be able to sell it at a lower price. Tertiary competitors also account for businesses that could perhaps pivot into your space.
The specific search terms or entities each PR team would establish to monitor the activities of competitors will vary but will aim to answer a lot of the same questions. Those questions are likely to include:
What are our competitors talking about?
What content do they create or secure?
What sentiment is there around the brand and PR output of our competitors?
What types of content or platforms are gaining the most traction for competitors?
What are the demographics of competitor followings?
Who are they targeting?
What hasn't worked well for competitors?
Deep and insightful competitor analysis can only be achieved with the right media monitoring tools in addition to human expertise.
Signal AI's market intelligence platform allows you to discover risks and opportunities faster and to disseminate that information as required.